About
MEET SUSANNE CARTER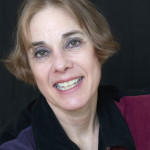 Susanne Carter is a dance performance artist. She creates original one-woman shows with themes that touch the human core. She is known for her unique style which combines modern dance with gesture, comedy, text, props and music. The result is an eclectic experience brought into a seamless whole.
Her work has been supported by the Kittredge Fund, Gardner Foundation, the Wisconsin Arts Board, Wells Fargo and community sponsors. She is artistic director of Carter Productions which she established in 2004 with husband, Paul Carter.
Original works
Adventures of Little Misfit, 2011
ImprosScaping, 2006
Dancing Spirit, 2005
Searching for Frances, 2004
Welcome to My Mid-Life Crisis! 2002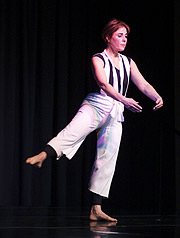 Credentials
Certified Personal Trainer, Aerobics and Fitness Association of America, 2007-current
Yoga and Pilates, Aerobics and Fitness Association of America, 2008
MS Education, UW-Milwaukee, 1994
Dance Education Certification, UW-Milwaukee, 1983
BA Dance, Loretto Heights College, 1970
Ms. Carter's dynamic style keeps her busy as a teaching artist, artist in residence, personal trainer and dance/fitness instructor.  As a teaching artist she has worked with VSA arts of Wisconsin, Goodwill, Artist Working in Education, Easter Seals and Arts At Large.  She is a dance/fitness instructor at UW-Milwaukee and Alverno College.  She is a personal trainer at the Exercise Studio in Mequon, WI www.exercisestudiomequonwi.com .
WISCONSIN DANCE COUNCIL CAREER RECOGNITION AWARD
The Wisconsin Dance Council www.wisconsindancecouncil.org, honored Susanne Carter with a Career Recognition Award.  This award is given to a person whose diverse dance contributions such as organization, leadership, choreographer, performer, educator, and innovator have changed the future of dance in Wisconsin.  The award was presented in Madison, WI, Oct. 7th, 2010 at the Madison Club.
Deb Solis, a Milwaukee dance professional, wrote the following:  "Susan Carter has lived inMilwaukeefor the last thirty-four years and dance has been her love, passion, and career.  She has collaborated, presented and used every means possible to bring the joy of moving to all people within the community."  End of quote
MEET PAUL CARTER
Paul Carter is a jazz guitarist. His repertoire includes jazz standards appropriate for intimate settings. His reflective and introspective style captures the ear. He seeks out the inherent beauty within the structure of the music. As a technician, his smooth tonal quality gives presence and ambiance.
He recently produced A Jazz Guitar Christmas CD of his work with eDreamStudios www.edreamstudios.com , 2011.