Bookings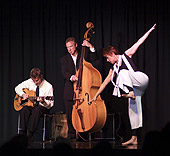 Susanne is available for:
shows
touring
directing
choreography
bookings
teaching workshops
residencies for all ages
Paul is available for:
Solo Jazz Guitar for Initimate Settings
Private Guitar Lessons
Jazz Combos
All services can be customized. Fees are negotiable.
To book a show or services, contact Susanne Carter, director of Carter Productions.