SWEATnDANCE
Sweat. Dance. Tone. Stretch. Workout. Have fun doing it.
This group fitness class combines a dance cardio workout with strength, balance and flexibility. It began in 2006 as Couch Potato Dance with three members. It has now grown to 15 students and is taught at St. Mark's Church on Milwaukee's East Side. The class meets the needs of mid-age women and older, remain strong and healthy.
Held at St. Mark's Church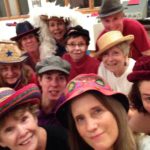 GOING STRONG SINCE 2006
www.stmarksmilwaukee.org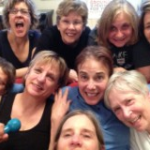 2618 N. Hackett Street
Between Park and Belleview
Mondays, 6pm until 7:15pm
Here is what students say…
I wouldn't be able to do the hiking that I've been doing out west without your class!! Thank you!
So far, I'm not hurting after the classes and I'm having a good time.
Your class is great! Thanks for all your caring for us, in so many ways.
Loved the rhythm music tonight. Thanks or another great class.
So now that you're doing more repetitive moves with fewer changes, I feel less frustrated with myself. And the strength exercises are good for me. I've always enjoyed the class, of course.
The class is a positive part of my life.
I am much stronger as a result of this class.
This class is one of the best things I have ever done or myself!
Your class means a lot to me. It has improved my body, but it is also wonderful food for my spirit and feeling connected to others. Thank you!