Yoga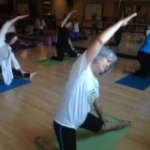 YOGA MIX combines the practice of asanas (poses), with pranayama (breathing), a good sense of humor and a dash of creativity!
The class uses a progressive approach to learning poses at beginning levels and moving to more challenges based on skill.
As each student deepen their practice and ability, the result is centering of the mind and body. With continued study, students relieve stress, use poses for health related uses and become more aware of their energy levels.
The mood of the class is inclusive, to come together as a group and to develop a caring feeling among members. The class is open to student of all fitness levels. Experience with Hatha Yoga can be helpful.
References to the background and history of yoga are integrated into the focus of the class and to deepen understanding. Students are encouraged to adapt positions to their individual needs.
YOGA MIX AT ALVERNO COLLEGE
www.alverno.edu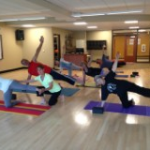 3400 South 43rd Street
Milwaukee, WI 53234
Alexia Hall G16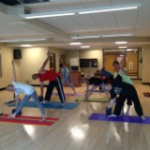 Wednesdays, 6:30 until 7:45pm
Thursdays, 6:15 until 7:30 pm
YOGA IN THE PARK WITH SUSANNE CARTER
guitar music by Paul Carter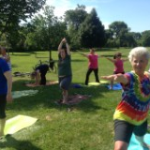 June, July, and August
Second Sunday of the month
Mitchell Boulevard Park
5115 West Bluemound, Milwaukee, WI
$5
for more information contact Susanne
Here's what students are saying…
"I like the mood of the class. People are serious about doing yoga, but relaxed and accepting, taking their cues from the instructor. There's a caring feeling among members…"
"A positive mix of positions, breathing and meditation. I am learning to work within my own body."
"I love the variety of each class and we are able to create a safe place for yoga."
"I like building on previous skills and I can challenge myself when appropriate."
"…the 'putting together' of the various poses/movement into the 'yoga flow', definitely a workout."
"I enjoy everything about this class."